A spring is any natural situation where water flows to the surface of the earth from underground. Buro Buro Resort is already 15 years old and is known for it's abundant, fresh, spring water, and rustic ambiance. But because it is far from the city's reach, not all people are aware that there is this little gem in Negros Occidental waiting to be that "next" spot for locals and tourists. Just head on to Granada and you could see for yourself! 8)
My favorite place. The spring water-filled pool.
I had a great conversation with the caretaker of the place. Ms. Pinky was glad to talk about the land that she took care of from its early beginnings up until now. Buro Buro was actually a private place for the Henares family to have their vacation. After they decided to put up some cottages, the "Resort" was added and it was the start of a beautiful spring hideaway.
Flowers that only bloom on a cool atmosphere.
Buro Buro stretches to a hectare of well-developed land. Fully equipped with fruit-bearing trees such as Indian mango, Rambutan, Lanzones, Durian, Coconut, Marang, Mangosteen, and Pili. Surrounding the place are strong trees like that of the Eucalyptus, Mahogany, and Narra – the Philippines' National Tree.
Water lilies. Beautiful water lilies!
Plus, they have this one unique tree that bears a fruit called "abiu" – this is a tropical fruit tree that originated in the Amazonian region of South America. Abiu has a similar taste with the common Star Apple and it smells like "atis" or sugar-apple.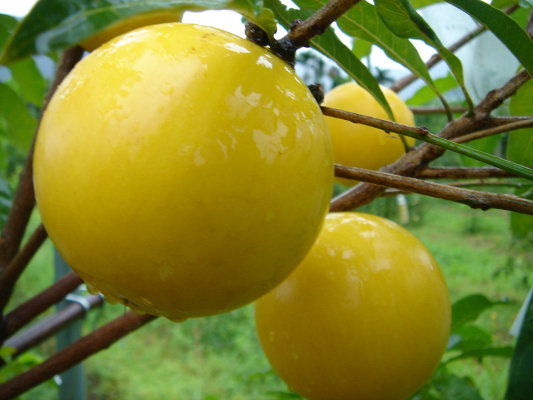 This is the ABIU fruit. Commonly mistaken as a ripe mango.
The resort boasts two pools that are filled genuinely with crystal clear, fresh, spring water – unlimited and oozing with splendor. Taking a dip at anytime of the day felt as if your summer is already complete.
If someone would propose to me here, I'd definitely say "yes" haha! 😉
Walk pass the trail towards the pond and water lilies will exude that elegance you have longed for. Salamanders, red and green frogs, and colorful butterflies will remind you of the story of "Alice in Wonderland." Step up to the wooden patio and feel the soft breeze from the mountains, vines that are touching your head as you go, and flowers that bloom with charm. Nothing beats nature!
My stay here was totally awesome! Drinkable water, fresh air, accommodating people, and yes… God's creation! Hope to see you in Buro Buro again soon! 🙂
For bookings and information: Look for Pinky Eden 4767986