I'm not actually a robot that is capable of planning for a trip 24/7. Of course, I get tired of reading, writing, designing, and others – who doesn't, anyway? In my spare time, I love relaxing on a beach with a cold beverage, or have coffee and cheesecakes, or simply lay back and watch inspirational travel movies to keep me dreaming. lol! 🙂
Here are some Travel Movies to inspire you:
#1 – A Map For Saturday
This is actually a documentary. I watched it thrice because it was well-done! Plus, I got a "little" crush on Brook Silva-Braga (the writer and director, obviously). It's a story about a trip around the world where (for him) every day feels like Saturday. This documentary shows a world of long-term, solo travel through the stories of trekkers on 4 continents. This masterpiece finds backpackers helping neglected Thai tsunami victims and it explains why Nepal's guesthouses are empty and Brazil's stoplights are ignored. But ultimately, this movie tracks the emotional arc of extreme long-term travelers; teenagers and senior citizens who wondered, "What would it be like to travel the world?"
#2 – 180 Degrees South
I fell in love with Rapa Nui. This movie focuses on Jeff Johnson as he retraces the epic 1968 journey of his heroes Yvon Chouinard and Doug Tompkins to Patagonia. Along the way he gets shipwrecked off Easter Island, surfs the longest wave of his life – and prepares himself for a rare ascent of Cerro Corcovado. Jeff's life turns when he meets up in a rainy hut with Chouinard and Tompkins who, once driven purely by a love of climbing and surfing, now value above all the experience of raw nature – and have come to Patagonia to spend their fortunes to protect it.
#3 – Under the Tuscan Sun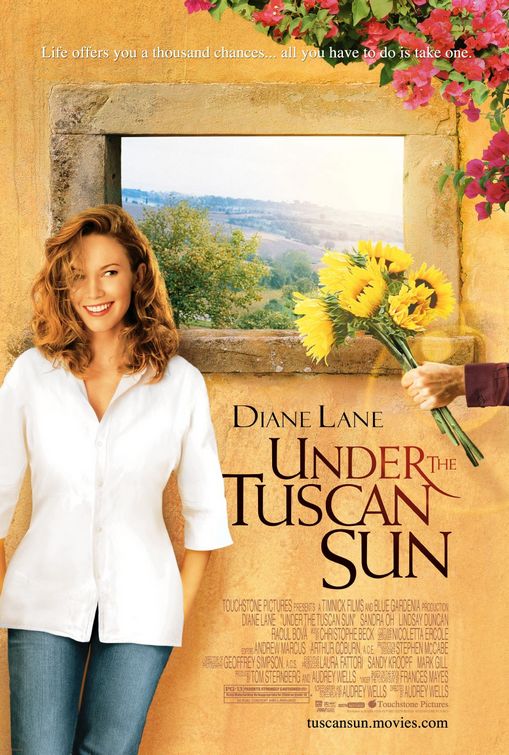 I love this film because of the vivid colors and the beauty of Tuscany. While on vacation, a just-divorced writer buys a villa in Tuscany on a whim, hoping it will be the start of a change for the better in her life. And yes, it was such a change in her life!
#4 – Seven Years in Tibet
Because Brad Pitt is simply sizzling. haha! Here, Austrian Heinrich Harrer decides to add glory to his country and to the German pride by climbing Nanga Parbat in British India, and leaves his expectant wife behind. Then WWII breaks out, they are arrested and lodged in Dehra Dun's P.O.W. Camp. He attempts to break out in vain several times, but finally does succeed along with Peter Aufschnaiter,  and ended up in the holy city of Lhasa – a place banned to foreigners. They are provided food and shelter, and Peter ends up marrying a tailor, Pema Lhaki, while Heinrich befriends the Dalai Lama. He meets regularly to satiate the child's curiosity about the world, including Jack the Ripper and 'yellow hair'; in return he is exposed to teachings of Lord Buddha and even constructs a movie theater.
#5 – Last Stop For Paul
A funny story about friendship and travel. Charlie and Cliff decide they want to go to the Full Moon party in Thailand. Along the way they travel around the world sprinkling the ashes of their dead friend Paul. As they go from country to country they meet a wide variety of crazy people and have insane adventures.
#6 – Outsourced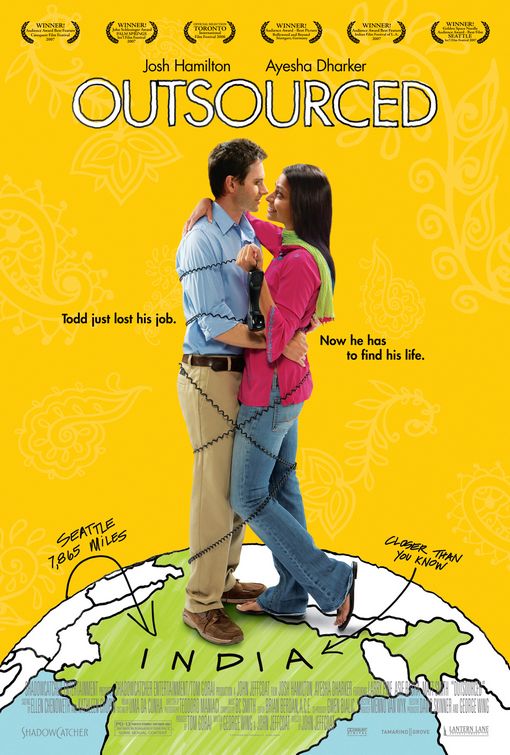 Simply put, this focuses on the wonderful India. The story revolves on a manager that is sent to India to oversee a staff of customer service representatives. Evidently, culture-shocked, an employee helped him through and they fell inlove.
#7 – Motorcycle Diaries
I find the lead actor sexy. I watched this film without subtitles and I am too darn crazy for understanding it and finding it sexy as well hahaha! Is it just me? The story dates back to 1952, twenty-three year old medical student Ernesto Guevara de la Serna – Fuser to his friends and later better known as 'Ernesto Che Guevara' – one semester away from graduation, decides to postpone his last semester to accompany his twenty-nine year old biochemist friend 'Alberto Granado' – Mial to his friends – on his four month, 8,000 km long dream motorcycle trip throughout South America starting from their home in Buenos Aires.
#8 – Vicky Cristina Barcelona
Experiencing Spain in this movie. Two girlfriends on a summer holiday in Spain become enamored with the same painter, unaware that his ex-wife, with whom he has a tempestuous relationship, is about to re-enter the picture. This is a fun film!
#9 – Into the Wild
Somehow, I don't want to end up like him but the storyline is nice. After graduating from Emory University, top student and athlete Christopher McCandless abandons his possessions, gives his entire $24,000 savings account to charity and hitchhikes to Alaska to live in the wilderness. Along the way, Christopher encounters a series of characters that shape his life.
#10 – Shanghai Kiss
More of a romantic film but I love seeing Shanghai in the background. The movie features an Asian-American actor, living in Los Angeles, is forced to reconsider his roots as well as the possibilities afforded him by his present situation after suddenly inheriting his grandmother's home in Shanghai.
#11 – The Beach
This is simply divine. Leonardo is cute! Twenty-something Richard travels to Thailand and finds himself in possession of a strange map. Rumours state that it leads to a solitary beach paradise, a tropical bliss – excited and intrigued, he sets out to find it.
#13 – Eurotrip
Just a great way to laugh and let all the stress out! Dumped by his girlfriend, a high school grad decides to embark on an overseas adventure in Europe with his friends. Of course, this is a Rated R movie. Hilarious!
These are NOT my top picks, though. I haven't included "Before Sunrise," "Eat. Pray. Love," and other GREAT movies! 13 is not enough. I have more and it might be on my next post – soon! Just bookmark the site for your movie reference. 🙂
 ***
If you enjoyed this post, please do share it on you social media of choice or feel free to sign up for regular updates about my journey below. Other than that, you could drop me a comment or simply say "Hi!" 🙂